---
3.díl
19. 2. 2010
HIDE AND SEEK
EPIZODA č. 3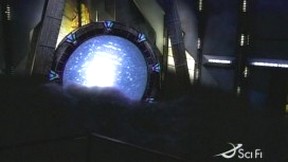 Námět: Brad Wright a Robert C. Cooper
Scénář: Robert C. Cooper
Režie: David Warry-Smith

Premiéra: 23. 7. 2004 (USA)
Česká premiéra:

Postavy: dr. Elizabeth Weirová (Torri Higginson), major John Sheppard (Joe Flanigan), dr. Rodney McKay (David Hewlett), poručík Aiden Ford (Rainbow Sun Francks), Teyla Emmagan (Rachel Luttrell), dr. Carson Beckett (Paul McGillion), Peter Grodin (Craig Veroni), Halling (Christopher Heyerdahl), Jinto (Reece Thompson), Wex (Casey Dubois), seržant Stackhouse (Boyan Vukelic), Marta (Meghan Black)

Obsah epizody:
Rodney McKay se propůjčil k pokusům doktora Becketta s jeho DNA, které u něho mají aktivovat gen Antiků. Pohrává si se zařízením, které našel v jedné laboratoři…
Elizabeth Weirová probíhá s Peterem Grodinem aspekty dalšího života v Atlantidě. Spatří doktora McKaye, jak padá z balkonu bez jakékoli úhony. Na hrudi má svítící zařízení, které mu zajišťuje osobní štít poskytující stoprocentní ochranu celého těla. Grodinova rána pěstí do obličeje nemá na McKaye žádný účinek, podle majora Shepparda ani střelba do nohy nepůsobila – McKay je doslova nezranitelný. Když si však chce zařízení sejmout, zjistí, že to nejde: ruka nepronikne štítem ani k přístroji, který jej generuje. A to není vše – když se chce v ošetřovně napít, nápoj po štítu steče. McKay nemůže vůbec jíst ani pít a hrozí mu smrt hladem či žízní jako novodobému Midasovi. Zařízení by se mělo ovládat myslí, ale McKay všechny instrukce bohorovně ignoroval a teď neví, jak se přístroje zbavit. Doktorka Weirová naznačuje, že se McKay štítu podvědomě zbavit nechce – Atlantida je stále většinou neprozkoumaná a děsí i Athosiany, kteří se bojí duchů předků. Weirová věří, že ve štítu je pojistka a že se sám vypne, až by McKayovi hrozila smrt.
Grodin instruuje řídící štáb o kódech aktivujících autodestrukci města pro případ, že by se Wraithové měli zmocnit Atlantidy a jediné brány vedoucí na Zemi.
Major Sheppard vypravuje athosianským dětem pohádku o noční můře v Elm Street a poté ukáže Teyle na videu pozemský fotbal. Mezitím si Hallingův syn Jinto spolu s kamarádem v noci hrají "na Wraitha a Shepparda". Jinto při hře vejde do výklenku v neprozkoumaných dveřích – a od té doby není k nalezení. Halling prosí majora o pomoc a rozjede se pátrací akce. Weirová vyvolává Jinta rádiem, ten ale neodpovídá a navíc se na senzorech objevují podivné údaje. Světla zhasínají a dochází k výpadkům energie, Brána se bez zjevného důvodu sama aktivuje.
Teyla přivede athosianskou dívenku Martu, která prý viděla jakýsi "stín". Majora Shepparda a Hallinga při pátrání cosi pomalu sleduje…
I další Athosiané viděli Stín. Halling zavolá sám rádiem Jinta a prosí ho, aby mu odpověděl. Žádá duchy města, aby se nezlobili a vrátili mu syna. Světla potemní a McKay omdlí – hlady.
Sheppard při obchůzce sám pozoruje temnou masu, proplouvající chodbou, spatřil ji i Grodin u naquadahového generátoru. Neznámá hmota se zřejmě živí energií a tím se zvětšuje. McKay se obává, že až energie dojde, mohla by napadnout i lidské bytosti. Weirová vydává všeobecné instrukce, v tu chvíli se rádiem ozve ztracený Jinto. Ztratil se a neví, kde je. Když popíše, kudy procházel, objeví Sheppard s McKayem onen "výklenek" se svítící mapou Atlantidy a zjistí, že jde o transportní zařízení umožňující rychlou dopravu po městě. Dostanou se do laboratoře, kde najdou Jinta a řadu neznámých zařízení.
Poručík Ford je se seržantem Stackhousem uvězněn v chodbě a "entita" se k nim blíží. Ford pod McKayovým vedením rádiem urychleně vyměňuje krystaly, aby otevřel boční dveře. Stackhouse uhne, Ford je napaden a upadne do bezvědomí.
McKay zjistí, že Jinto v laboratoři vypnul schránu s vlastním zdrojem energie, v níž byla tmavá entita uvězněna, a tak ji vlastně pustil na svobodu. Antikové na ní zřejmě zkoumali Povznesení a pozorovali ji. Bytost je snad i inteligentní, ale zajímá ji především potrava a komunikace s ní je nemožná. Hrozí nebezpečí, že vysaje veškerou energii a pak by mohla všechny zabít.
Ford se zotavuje v nemocnici po úderu elektrickým proudem a Jinto se mu omlouvá, že tohle všechno způsobil. Ford mu připomíná, že Pozemšťané zase svým příchodem probudili Wraithy.
Doktorka Weirová chce nechat nalákat entitu zpět do schrány jako džina, k čemuž se nabízí Sheppard. Weirová navrhne McKaye s jeho štítem nezranitelnosti, který však v tu chvíli představuje pro svého nositele "ohrožení" a McKay jej podvědomě vypne. Okamžitě se dá s chutí do jídla. Štít si ovšem svého nositele zapamatoval a na nikom jiném nebude teď fungovat, i kdyby měl aktivní gen Antiků jako Sheppard.
Ve velícím středisku je vypnuta energie a major zapíná schránu. Entita však na vějičku neskočí a pokračuje dál. Ve věži zapnou proud a tvor se blíží k bráně. Teyla naznačí, že by mohl po dlouhém věznění chtít sám z Atlantidy odejít. Navrhne otevřít Bránu a vlákat entitu do ní. McKay doporučuje hodit do červí díry naquadahový reaktor, aby jej entita následovala a bránou prošla. Grodin najde adresu pusté planety, Sheppard posílá do brány sondu s reaktorem. Entita ale vozík obklopí a ten se zastaví před červí dírou s vybitou baterií. Hrozí, že tvor vysaje generátor napájející bránu, ovládání brány je zablokované. McKay se odhodlá jednat a přes všechny své obavy si znovu nasadí generátor osobního štítu, vejde dovnitř entity a sám hodí reaktor do červí díry. Entita projde bránou a McKay leží v bezvědomí s deaktivovaným štítem, z něhož bytost vysála energii. Záhy ale se probere a užívá si úspěchu.

Přepis epizody v originále: najdete na stránkách Gatenoise
České titulky (DVD ripy): najdete na stránkách Stargate Subtitles Site
Fakta a zajímavosti: zatím není k dispozici

Oblíbené citáty:
McKay: "Look Beckett's gene therapy worked. I was able to activate this. It's a personal shield acts like a protective skin and it must have inertial dampening features too, because I didn't feel a thing. Watch this." (to Grodin) "Hit me."
Grodin (punch him and hits a green shield): "Ahhowww God!!!"
McKay: "Didn't have to swing so hard and notice he didn't even hesitate."
Weir: "I'm still trying to understand, how you thought it was a good idea to test this device by having someone throw you off a balcony."
McKay: "Oh, believe me that's not the first thing we tried."
Sheppard: "I shot him. In the leg."
McKay: "I'm invulnerable."
Weir: "Aren't you the one who's always sprouting off about how proper and careful scientific procedure must be a peered to?"
McKay: "Invulnerable."
Beckett: "This may be more serious than I suspected."
McKay: "Well, thank you. I'm hungry already, what am I going to do? If I don't get this stupid thing off I'll be dead by the end of the day."
Beckett: "Relax you can live three of four days without water."
McKay: "I'm talking about food."
Beckett: "Well, you found some ancient text with the device. What did it say about taking it off?"
McKay: "Oh yeah, there were explicit instructions, that I chose completely to ignore."
McKay: "It must be a transporter."
Sheppard: "We can name it later."
Weir: "Is it intelligent?"
McKay: "Well, according to the research it is sentient but if... if you're thinking about trying to talk to it, you'd have more luck with a great white shark. This thing is going to suck the power out of our generators and then it will kill us all."
Weir: "Alright, what do we do about it?"
McKay: "The energy's been trapped in here since before the Ancients abandoned the city."
Sheppard: "I know I'd be pissed."
McKay: "This is a bad idea."
Weir: "You said that already."
McKay: "Well, it's worth saying again."

Hodnocení:

Výborný David Hewlett alias dr. Rodney "Citrón" McKay.
Komentáře
Přehled komentářů
---
---